Top 5 Ceiling Designs to Try
Posted by Garman Group on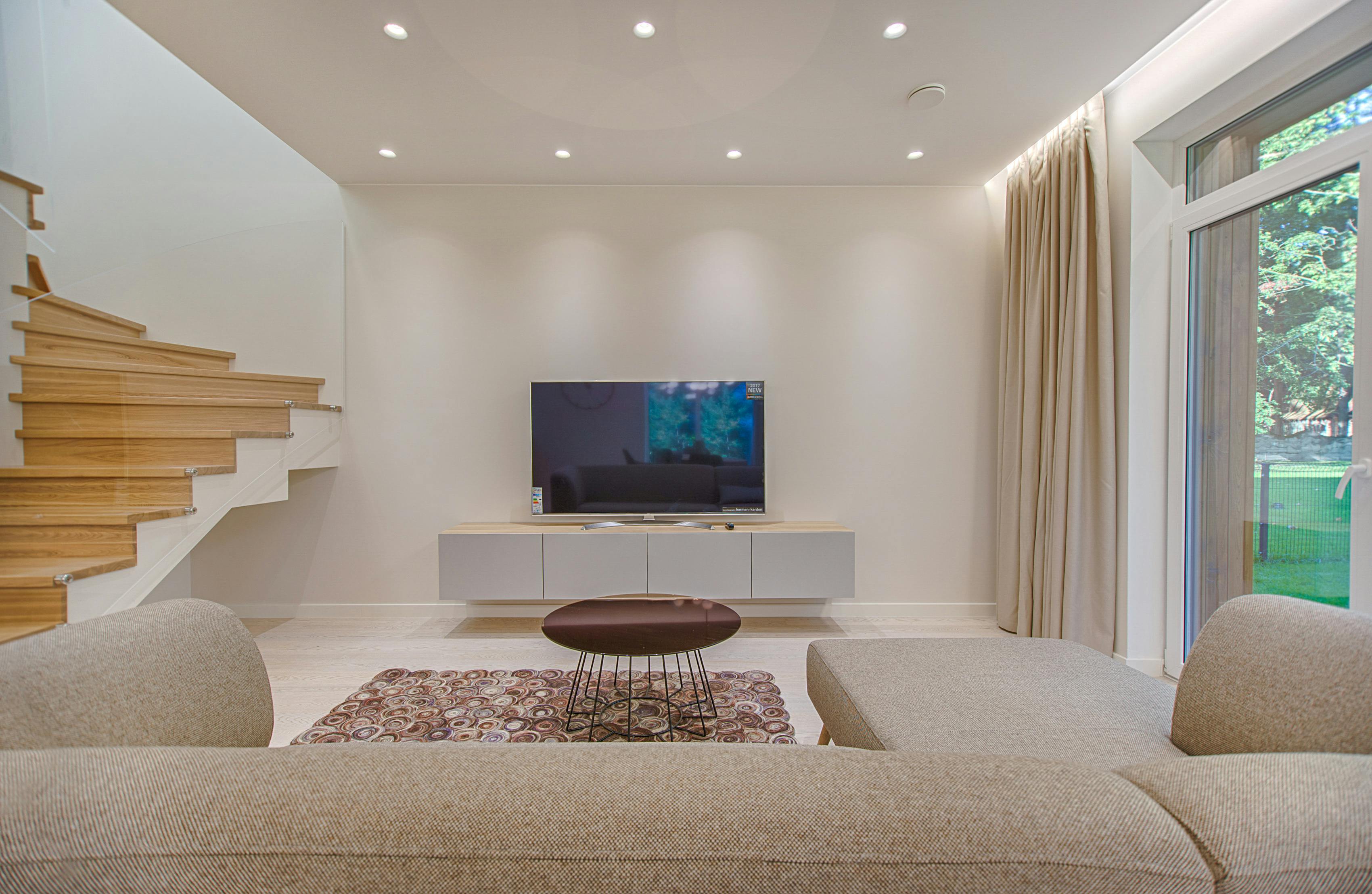 If you're looking for a way to refresh the interior design of your home, we have some unconventional advice for you — look up! Ceilings are one of the more underrated living space areas, but we promise there's so much potential for design creativity here, and it can make a massive difference in sprucing up your house.
Last month, we talked about the benefits of replacing outdated popcorn ceilings with some fresh, modern alternatives. Now it's time to aim a little higher (see what we did there?) and showcase some of the trendiest ceiling designs. So whether you're looking for options to complement the rest of your interior design and decoration or ideas to camouflage abnormalities, here are five top ceiling designs you'll want to try as soon as possible.
Bright lights, big fixtures
If you like the modernity of simple ceilings yet crave a pop of glamour, you might consider playing up the basics with lights as a focal point. Potlights, LED panels, or extravagant light fixtures are all great options for making a statement and emphasizing different design aspects in the rest of your space.
Structural marvels
Dropped ceilings, otherwise known as suspended ceilings, are often a structural choice to conceal flaws, intricate wiring, and unsightly electrical features. On a practical level, dropped ceilings can also be used to add insulation for warmth and soundproofing. Although suspended ceilings can decrease headspace in a room, this usually isn't a significant enough problem to warrant concern.
That said, it's not all about utility — dropped ceilings can also incorporate a wide variety of structurally creative decorative designs, like wooden detailing, multilayered lighting setups, and other suspended elements.
High-contrast stretch ceiling
For a bold and stylish look, you can't go wrong with a stretch ceiling that creatively blends mixed media ceiling coverings to create an appealing, aesthetically pleasing contrast. Of course, there are many ways to work within this style, but as an example, designers like to get creative by layering two or more different panels — like a glossy neutral panel paired with a striking patterned or textured panel.
The key here is finding a balance between pieces to avoid overwhelming the ceiling with too much activity or underwhelming it with too little intrigue. You'll also want to consider how this statement ceiling will align with the rest of your interior design and furniture.
Curved ceilings
Plaster of Paris (POP) ceilings are a specific type of artificial ceiling within the dropped ceiling family that boasts high durability, easier installation with proper planning, and versatility through colours, textures, and design. Curved ceilings are a great example of a decorative POP ceiling that incorporates circles, arches, and curves for a lavish look and feel. In addition, curvature in the ceiling can help break the symmetry of boxy rooms to create a more expansive, luxurious appeal.
Stairway to heaven
If you're working with a loft-style condo or are building a multi-floored home from scratch, you may wish to get creative with access to the upper floors. Staircases don't always have to be relegated to hallways and off-side corners. For a unique architectural feature, you can create a POP ceiling with a functional staircase addition as the focal point, perhaps with an intricate spiral staircase design for extra flair.
Your interior design is an extension of your personality, preferences, and values — so why should it be any different when choosing the best ceiling for your home? We hope these ideas have inspired you to give your ceilings an upgrade for the dream interior you deserve!
Excited to take your ceilings to the next level ahead of buying or selling your home? A Garman Group REALTOR® can help, so get in touch today!